2023 Chamber Awards Dinner
October 18, 2023 at 9:09 AM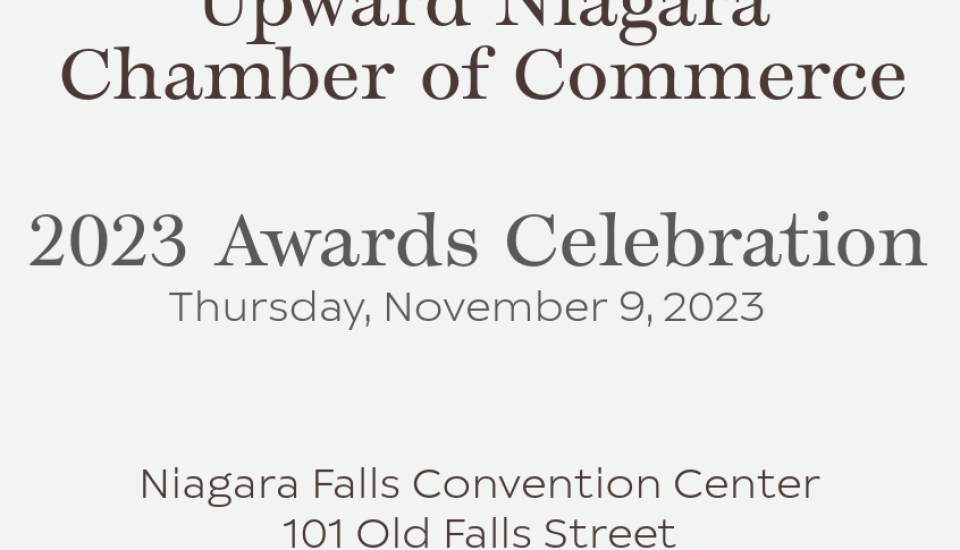 Upward Niagara Chamber of Commerce to Celebrate Award Honorees
on November 9th


The Upward Niagara Chamber of Commerce will celebrate the community at the Annual Awards Dinner held at Niagara Falls Convention Center on Thursday, November 9, 2023. The annual awards are selected by the Membership to recognize the dedication and contributions made by our members to make the community stronger. The outstanding contributions and leadership from each of the honorees to the business community will be recognized
The Awards Dinner will begin with cocktail hour followed by a sit down dinner and awards program. A silent and basket auction will take place throughout the evening. Tickets are available at the Chamber office (895 Center Street, Lewiston) or online at www.UpwardNiagara.com at $125.00 per person.

The Upward Niagara Chamber of Commerce will honor businesses and individuals in the following categories:
2023 Member of the Year – DiMino's Lewiston Tops
2023 Community Partner – Celebrate Wilson
2023 Award of Excellence - Simply The Best Cleaning Service
2023 Emerging Business - Skydive the Falls
2023 Distinguished Service – George Osborne
2023 Chairman's Award – Lewiston Fire Company #1
The awards are given based on leadership, dedication and achievement in the community. Those chosen have contributed significantly to the success of the region and their profession. The honorees are nominated by Chamber of Commerce members and selected by the Chamber of Commerce Board of Directors.

The awards dinner is open to the public to attend. Tickets and sponsorship opportunities are available through the Chamber Office by calling (716) 754-9500 or online at www.UpwardNiagara.com.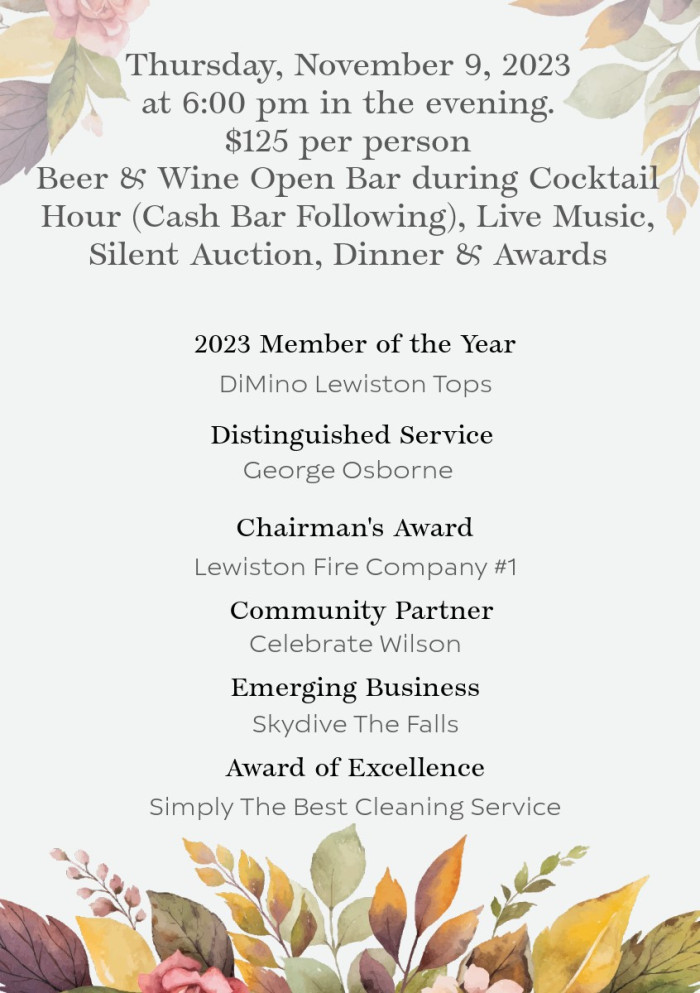 ###
The Upward Niagara Chamber of Commerce is a personalized Chamber whose mission is to unify the region and to promote it as a premiere place to live, work and play. The organization is responsible for coordinating efforts in the marketing and promotion of tourism, business development, quality of life and the history and culture of the region, which serves the community of Lewiston and surrounding communities. For additional information, visit www.UpwardNiagara.com