Wilson NY's Inaugural LEON Festival
Satuday, June 17, 2023

11am - 9pm

Young Street, Wilson, NY
Wilson, NY will be celebrating half way to Christmas on Friday, June 16th & Saturday, June 17th.
Find out more information here!

Vendor Info is below!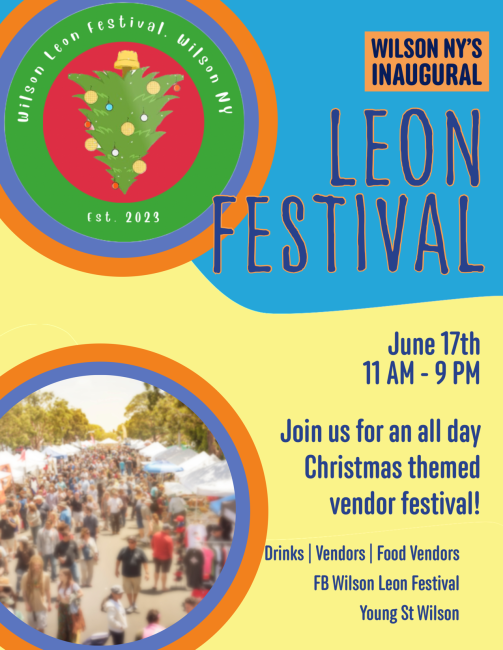 VENDOR INFO:
Young street will be closed around 7am and ready for set-up. Spaces are 10x10, please let us know if you need more space. You are responsible for everything you will need. We are hoping to make this a magical Christmas in June, adding Christmas lights and music will really add to the atmosphere and make shopping for your customers more fun. Please let us know if you need electricity ahead of time. This festival will take place Father's Day weekend when Wilson already has an influx of thousands of people for their annual soccer tournament.
When: Saturday June 17th, 2023
Time: 7-10:30am set-up, festival starting at 11am
Where: Young Street Wilson, NY
Fee: Each space is only $25 for our first year
Enclose a copy of your NY State Tax ID number, Vendors are responsible for collecting their own sales tax if applicable and a copy of your insurance
Please make checks payable to: Celebrate Wilson!
Mailing the check and application to: Celebrate Wilson!
P.O. Box 416
Wilson, NY 14172
Please respond by May 15th, 2023

Each food vendor will need to register with the health department
There will be no competition between vendors, example: if soccer choices to sell French fries no other vendor will be permitted to sell French fries. This process will be first submitted first awarded.
THIS EVENT IS RAIN OR SHINE, no refunds available
By making full payment you confirm that, as the exhibitor, you are solely responsible for your property and/or display.